'Exterminate All the Brutes' offers a searing second take on US history
April 7, 2021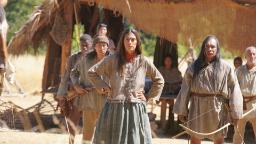 Weaving his personal biography and private experiences into the story, the Haitian filmmaker has produced a hard-to-describe venture, mixing detailed dramatic sequences, animation and documentary components, with actor Josh Hartnett, considerably distractingly, representing the face of oppression and genocide by varied phases of historical past.
The central theme, nevertheless, focuses on an extended highway of racism constructed on the tentpoles of "Civilization. Colonization. Extermination." Peck attracts on creator Joseph Conrad's "Coronary heart of Darkness" for the title, earlier than continuing to dissect the best way historical past is written and spun by the survivors.
As Peck notes, the "discoverers" of America and others by the centuries characterised themselves as such, utilizing that as cowl to grab the lands of Indigenous peoples, leaving a path of damaged treaties and abuse.
"Solely by killing, and displacement, does it turn into uninhabited," Peck, who gives the gravelly-voiced narration all through, observes, drawing a line from the previous by the white-supremacist actions of at this time. Former President Trump is proven referring to undocumented immigrants
as "animals"
(remarks he later
sought to clarify
) — a continuation, Peck argues, of the mentality that sure persons are by some means lower than human.
Peck has sought to power viewers not merely to confront historical past, however to attach it immediately to the current. He additionally desires to encourage a reconsideration of the best way these occasions have been mentioned and portrayed, maybe most successfully by the incorporation of previous film clips stuffed with photographs of informal racism and stereotypes.
There's an unavoidable sense that one thing as overtly provocative as "Exterminate All of the Brutes" will wind up strictly preaching to the choir. "Historical past is a fruit of energy," Peck says early on, continuing to deconstruct some fastidiously manicured storylines that youngsters have been informed as a way of tearing down statues to them, figuratively if not actually.
Identified for the James Baldwin-inspired documentary
"I Am Not Your Negro"
and "Generally in April," an HBO drama concerning the Rwandan genocide, Peck blends these two types, breaking his sections down with subtitles like "The Disturbing Confidence of Ignorance." The narrative derives inspiration from a number of scholarly works, together with Roxanne Dunbar-Ortiz's "An Indigenous Peoples' Historical past of america."
Within the press supplies, HBO notes that Peck "freely weaves collectively scripted and unscripted content material," which might make "Exterminate All of the Brutes" really feel messy, and in locations even disorienting. That may clarify the community's determination to consolidate the 4 hours over successive nights.
The online impact, nevertheless, succeeds on the very least in spurring contemplation not solely concerning what we find out about historical past, however how — and who — conveyed that to us. Whereas Peck's unorthodox method won't win many converts, the venture's existence is, if not fairly a miracle, its personal form of victory.
"Exterminate All of the Brutes" will air April 7-Eight at 9 p.m. ET on HBO, which, like, CNN, is a unit of WarnerMedia.